A bong is a staple in the smoking community, with every smoker owning at least one bong in their lifetime. Bongs are popular due to the fact they filter and diffuse smoke with water and percolators, so you don't get the harsh smoke and only get the smooth flavorful, milky hit every time.
An issue we run into with bongs is that they take a lot of work to make and create, especially with some glassblowers putting in a lot of work to creating quality bongs. Some bongs can cost hundreds of dollars and might discourage smokers from purchasing a bong.
Luckily, there are cheap bongs out there in the world that are affordable, durable, and they work just as good as any fancy bong. Cheap doesn't mean bad or low quality, it simply means affordable. So let's count down some of the best cheap glass bongs under 50.
Bongs under $50
Smoking out of a bong shouldn't cost you an arm and a leg, and it shouldn't be something that discourages you from smoking. Bongs are meant to bring smokers together and share a cool and memorable smoking experience.
Let's check out our collection of the best affordable glass bongs.
Acrylic 2-Chamber Recliner and Bubble Bong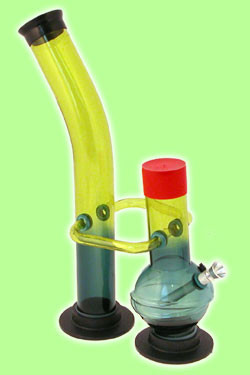 The Acrylic 2-Chamber Recliner and Bubble Bong is one of a kind, featuring two brightly colored chambers that add to the filtration and prevent the harsh smoke from hitting your lungs. Both parts are sturdy with their own thick rubber base, and are made into one piece by two tubes that connect each shaft to the other.
It may look unconventional and weird, but we guarantee that you will never find a bong like this one, especially at the affordable price. And the material is durable and beautiful to look at, so you'll have a piece that will last you a lifetime.
Features
Price: $39.99
Materials: acrylic plastic.
Pros: two chamber bases that filter the smoke efficiently
Cons: hard to clean.
Eyce Mini Beaker bong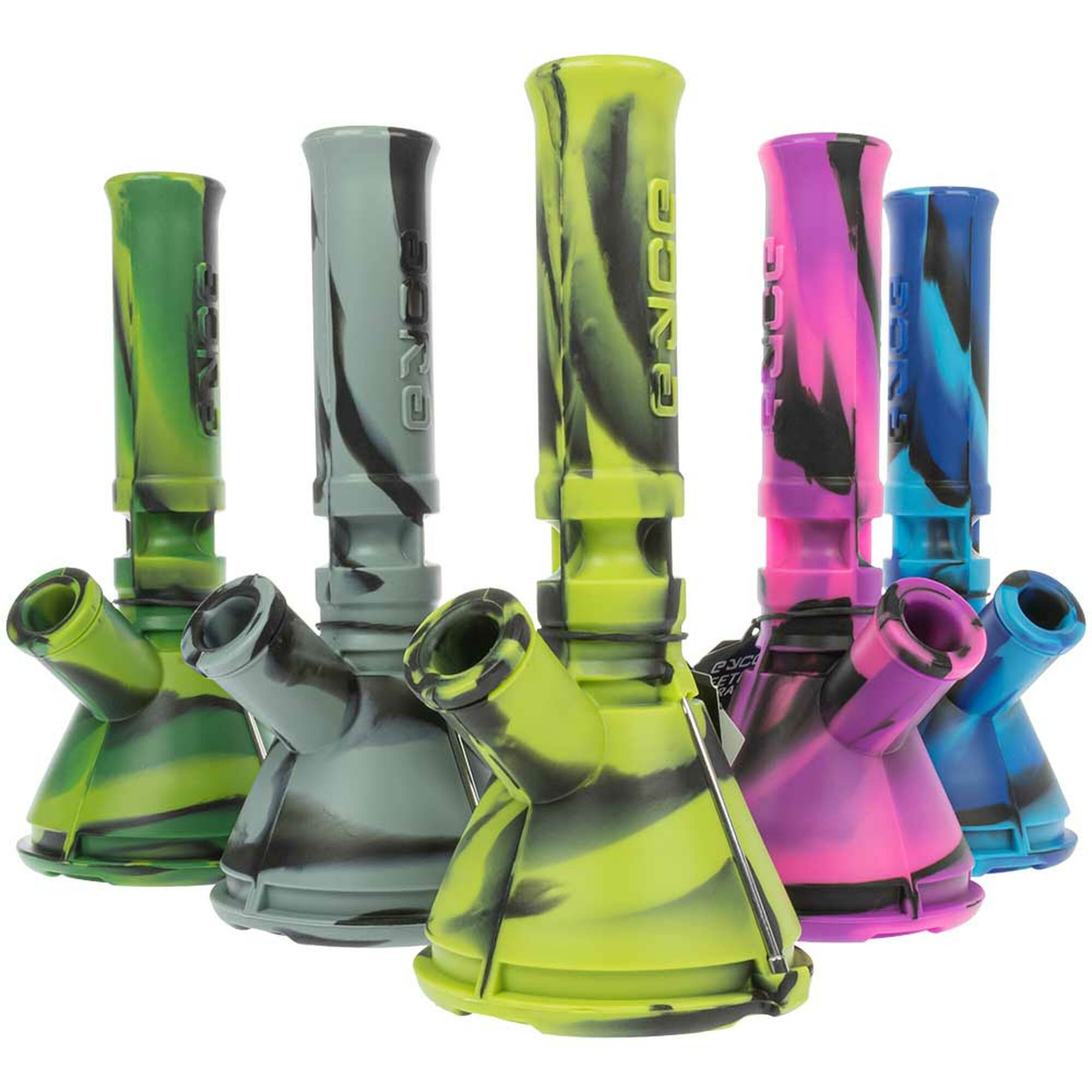 The Eyce Mini Beaker is the ultimate compact, silicone water pipe, perfect for smoking on the go. This mini bong stands at about 7 inches but it has plenty of storage for extra material, equipped with a steel poker and tool holders, and features a silicone downstem with a borosilicate glass slide.
Often mini bongs are delicate but the silicone body makes it durable to take with you everywhere you go. The steel poker makes it easy to clean the bowl and the storage on the bottom lets you store all your favorite dry herb.
Features
Price: $33.99
Materials: food grade Silicone Body, Large Hidden Container, 14mm Borosilicate Glass Bowl, Platinum Cured Percolated Down Stem, Ice Catcher, Stainless Steel Poke
Pros: All in one with everything you need.
Cons: ice catcher is too narrow.
Renegade Straight Tube bong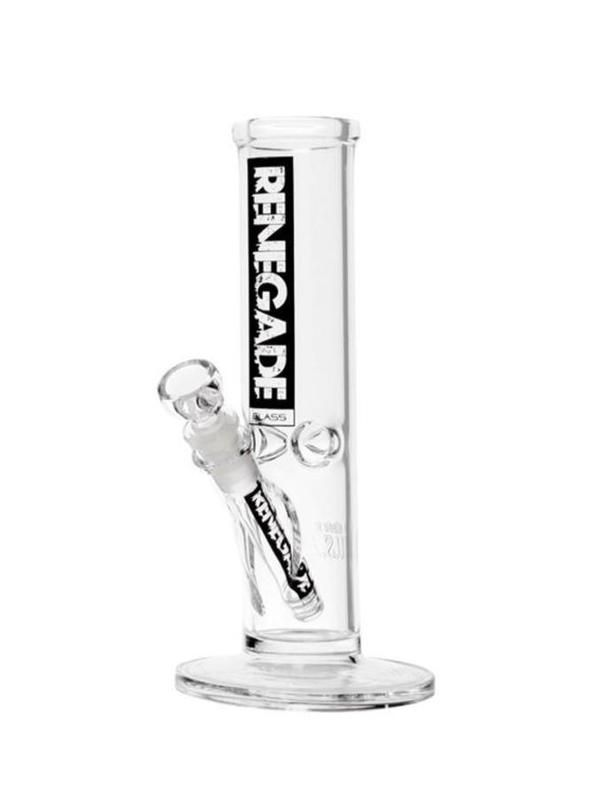 The Renegade straight tube bong flirts with the $50 price range but it is worthy of being on this this list. This affordable glass bong is the perfect daily bong for either flowers or concentrates, offering big stacking diffusion and flavor in a super discrete and easily portable smoking piece.
The classic straight tube neck on this water pipe allows for big tokes and easy cleaning, and the multi-slit percolator on the removable downstem delivers delicious rips every time. This style mini bong is ideal for at home or on the go.
Features
Price: $49.99
Materials: Thick borosilicate glass
Pros: durable and easy to clean
Cons: taxes put this over 50
SOS354
SOS glass is the definition of a mom and pop online headshop, with every product being carefully crafted and made to smoke at an affordable price. For 28 years they have worked in the smoking industry providing quality smoking pieces and smoking accessories and the SOS354 is just one of their many bongs that are both affordable and efficient when it comes to smoking.
The vibrant patterns and unique build of this bong makes it a must have for your collection and the fact this little bong beats out any other cheap bongs is just another reason you need this piece in your collection
Features
Price: $35.98
Materials: ceramic glass
Pros: small and affordable.
Cons: extremely fragile.
SOS064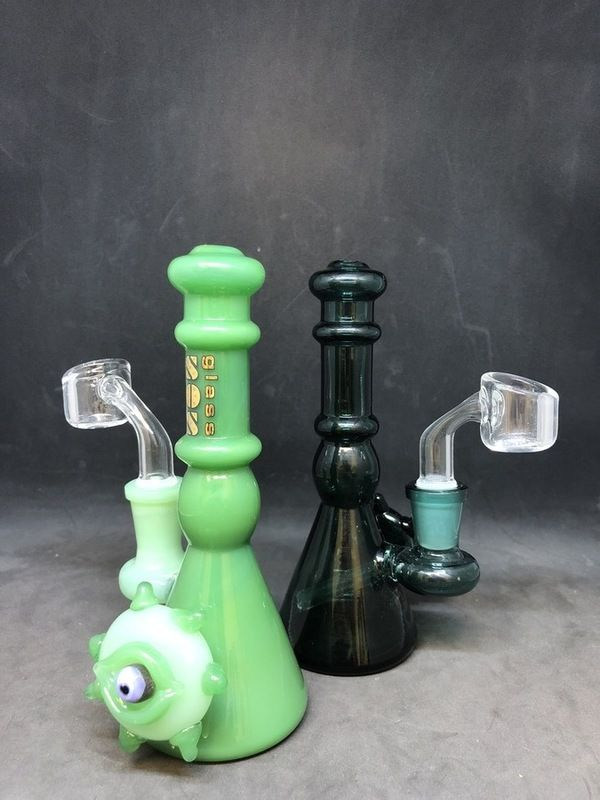 SOS glass has done it again with the SOS064, a mini bong that packs quite a punch. Like the other SOS glass bongs on this list, the SOS064 has a sturdy ceramic body and unique design you wont get with any other piece.
When it comes to cheap bongs that work, SOS glass has got your back. Don't break the bank with a fancy bong when you can get something just as good at a fraction of the cost.
Features
Price: $34.98
Materials: ceramic glass
Pros: unique design, ideal for concentrates or flower.
Cons: not enough online reviews
Where to buy bongs under $50
When it comes to finding cheap bongs online, you can't just go to any online headshop. You have to find trusted sellers that know bongs and the smoking industry and for that, you need to go to Slyng.com.
Slyng offers some of the best cheap bongs and discounts on the best and most recognized brands in the smoking industry. If you need an affordable bong, Slyng has got your back.
Bongs under $50 – Final Thoughts
The best bongs are the ones you can enjoy freely without spending hundreds of dollars. the best bongs aren't the ones with fancy accessories or vibrant colors, they're the ones that are the most affordable.
If you're browsing around looking for cheap bongs online, let us help you out!