Cannabis is one of the most enjoyable and popular recreational drugs in the world, because of its benefits and ability to get you high without any long term effects. There are so many ways to smoke, either flower, concentrates, oils, and even food items. Everyone loves weed and the feeling of smoking the sweet, sweet flower.
What smokers don't love is the potent smell of cannabis. Weed has a recognizable smell that has a habit of lingering, even when it's not being smoked. For those that prefer discreet smoking, it poses a problem and it keeps them from smoking comfortably. Luckily, there is a solution. The cannabis industry is listening to the outpours of complaints and is creating smell proof bags and stash jars that prevent any smell and keep your cannabis fresh.
This is our list of the best smell proof containers for weed and stash jars that keep your bud fresher then traditional containers. Keep reading to see the best smell proof containers!
Best smell proof containers for weed
Smell proof containers are lifesavers for those that want to maintain their bud for as long as possible and want to do it in a discreet way. Traditional bags and backpacks aren't smell proof and the smell can linger long after the cannabis is out of the bag.
The bags and smell proof containers in this list are all smell proof and guaranteed to be as discreet as possible while also keeping your material fresh.
Revelry Around-Towner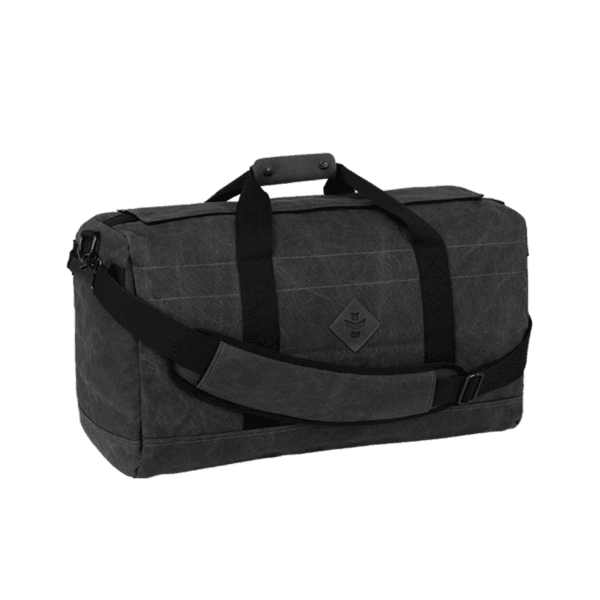 Like a regular duffel bag, the Revelry Around-Towner is a durable and roomy bag, ideal for all your smoking essential, like bongs, lighters, flower, etc. The water-proof and strong material make it perfect for daily travel or reliable storage, while also providing a cool aesthetic.
The carbon filter system in this smell proof bag makes it as discreet as they come, looking like a normal gym bag and disguising the powerful smell of bud.
Features
Price: $35.99
Materials: Rubber-backed nylon, layers of odor-absorbing charcoal and synthetic filters.
Pros: Mid-size and spacious, discreet, smell proof.
Cons: Not a lot of padding inside to protect your fragile gear.
Noah Hemp Over The Shoulder Sling Bag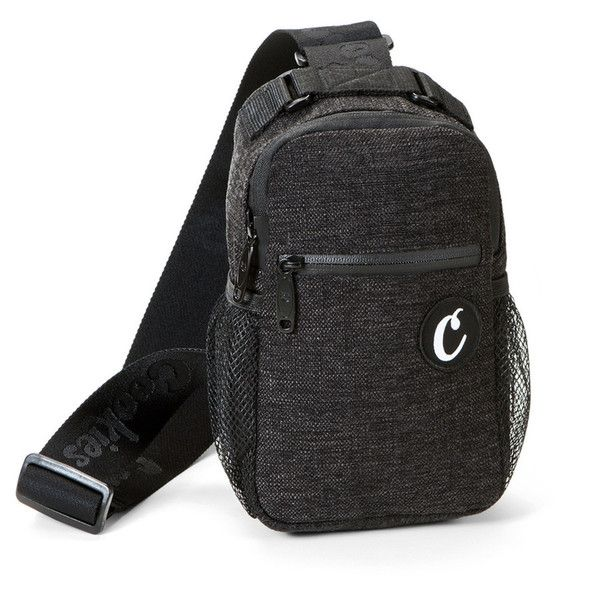 Cookies SF is a streetwear brand based in San Francisco with their roots in hip-hop and street fashion. It only makes sense their smell proof bags are stylish and modern, with a minimalistic design. This backpack has everything you need to store cannabis, from the side pockets to store your weed pill bottle, the big pocket to store your bong, and the smaller pockets to store the rest of your gear.
The over the shoulder bag is made with 100% hemp and its as smell proof as it can get, with no one being able to detect the slightest hint of weed.
Features
Price: $50.00
Materials: 100% hemp material, sling-bag design, adjustable strap, double zipper, mesh side pockets
Pros: stylish design, multiple pockets for all your smoking accessories, protective.
Cons: not enough online reviews.
Revelry Companion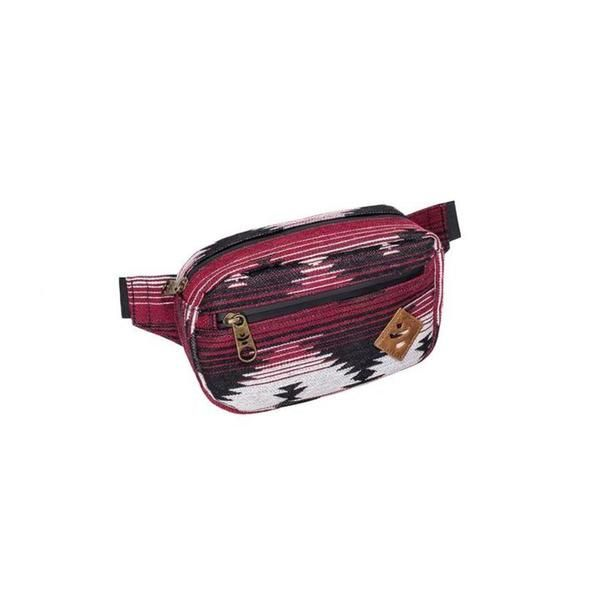 This little fanny pack may look like just any fanny pack but it is so much more. The Revelry Companion is a multi-layered small bag for containing your mason jars and stash jar of material.
For proper storage, this bag is the real deal, even offering a stylish exterior so you can draw attention for the right reasons. Revelry has done it again with this bag, providing plenty of smell proof bags that you can choose from.
Features
Price: $48.99
Materials: Odor absorbing & water resistant carbon filter system rubber-backed exterior custom protective lining waterproof zipper adjustable buckle closure inner divider external zippered pocket genuine leather accents
Pros: layers for storing weed.
Cons: small
Cookies Commuter Backpack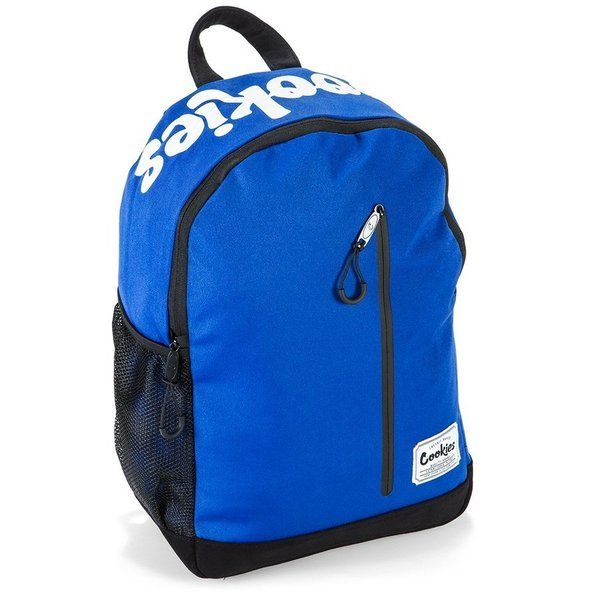 This smell proof bag, like the other Cookies SF bag provides an efficient and stylish way to lug around your smoking accessories. The new and improved technology ensures that you never have to smell your goods and it keeps others from looking your way.
It is completely smell proof, able to hold all your smoking essentials in it's multiple pockets and they are all convenient for you to reach into. Cookies SF is changing the game with a stylish storage solution.
Features
Price: $63.99
Materials: mesh lining, smell-proof technology.
Pros: multiple pockets, looks like a normal backpack. Stylish.
Cons: material might not protect fragile objects.
Large Smell Proof Bag with Lock by Fromline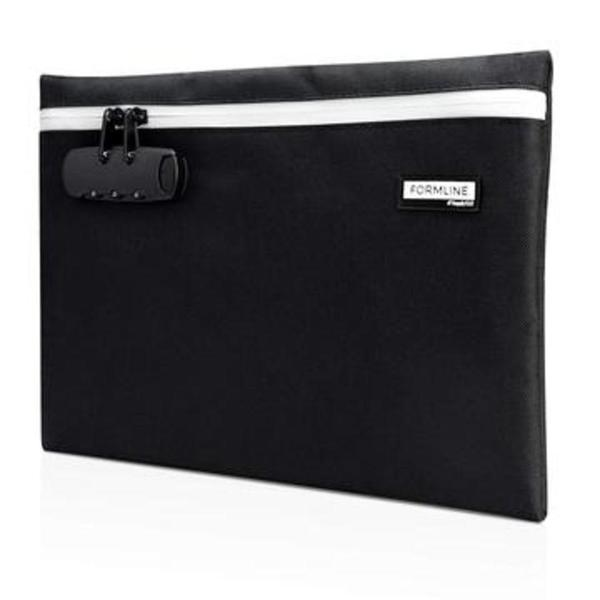 Fromline has long been a reputable name in smell proof technology, perfecting their craft with the creation of this large smell proof bag with lock. It may seem like just any carrying bag, but this is meant to carry all your glass jars full of cannabis and weed storage container.
The lock keeps anyone out of your stash, further ensuring the privacy you need in maintaining your weed. It's 100% odor proof and completely airtight, despite it looking like a normal plastic bag.
Features
Price: $29.99
Materials: 2x the odor absorbing technology, built in combination lock, printed interior lining
Pros: lock, humidity pack.
Cons: Minimal space for just your weed.
Happy Kit original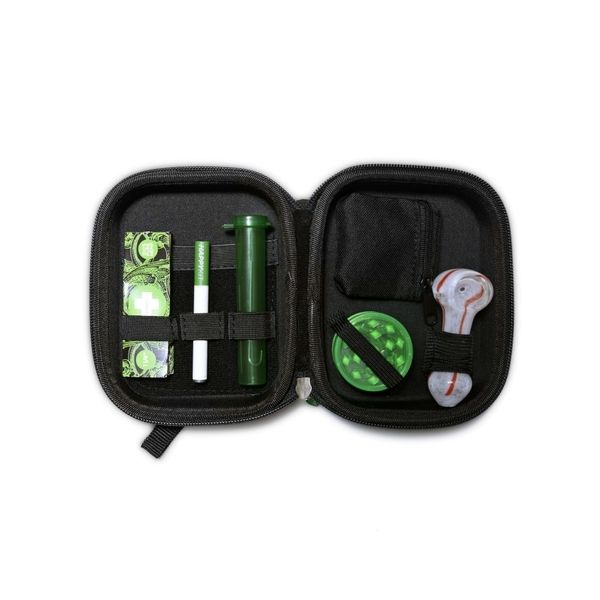 They original Happy Kit was specifically designed for smoking on the go, with the kit including a smoking piece, grinder, containers for joints, rolling paper, and a lighter container. It safely protects all this gear and is small enough to carry it anywhere you go.
The smell proof technology keeps it discreet and it is one of the best weed containers for even the most powerful and potent strains.
Features
Price: $30.00
Materials: plastic exterior. mesh interior
Pros: holds all your essentials safely.
Cons: limited capacity.
Where to buy the best smell proof containers
It's hard figuring out what you might need or what to look for in a smell proof bag. Luckily we have you covered. Slyng.com has partnered with hundreds of sellers online to provide the best products for you at the click of a button.
Slyng also provides coupon codes so you can save on top of getting quality gear or smell proof containers. You can't go wrong with Slyng, so shop today!
Best smell proof containers – Final Thoughts
Having a container that not only reliably holds all your smoking accessories but also prevents the smell from seeping out is hard to find, luckily we have this list. Discreet smoking shouldn't be that hard to achieve and with these amazing choices to help you get started, it's even easier.
Take advantage of our deals or use this list to help you get started on your next smell proof bag.