Bongs will forever be the official mascot of marijuana and marijuana products. Everyone, even non-smokers have seen a bong or at least know what one is. It is a standard water pipe you use to smoke weed.
Now there's all types of bongs, a bong for everyone, bongs that are both masterpieces and quality smoking devices, bongs that feature all the bells and whistles for an ideal smoking experience. People look for different things when buying bongs but one overlooked feature of a bong is durability.
With a majority of bongs being made with glass, it's hard to maintain them and keep them lasting without the risk of breaking or shattering one. What if we told you that there was a high quality and beautiful type of bong that isn't made of glass and designed to last a lifetime. The silicone bong, a bong made with food grade silicone, is the most durable and reliable type of smoking device.
Let's countdown the best silicone bongs in the industry and why they are. Stay tuned and keep reading to find out more!
Why is Silicone Better than Glass?
Silicone bongs are almost identical to standard bongs, with the only exception being the material they are made of. However, a silicone bong has an advantage in the sense that it is virtually indestructible and it can easily fold and bend without the final form being compromised.
This not only makes it better for clumsy smokers but is also extremely portable for smokers that don't want to draw attention. Food grade silicone is also dishwasher safe so they are easy to clean.
Is silicone safe?
The use of silicone to make a bong may seem a bit head scratching at first, with the use of plastic on a device that is meant to withstand extreme heat. But food grade silicone is extremely durable and the toxins from the silicone will never affect how you smoke.
Silicone is safe enough to use on foods and beverages so there is no reason to worry about it's toxicity.
Best silicone bongs
If you looking for a highly durable smoking device that you can take anywhere you go, check out our list of the most durable silicone bongs. This list will include the price, pros and cons of the bong so you can make an informed decision when it comes to purchasing these bongs.
PieceMaker Kirby Silicone Beaker Bong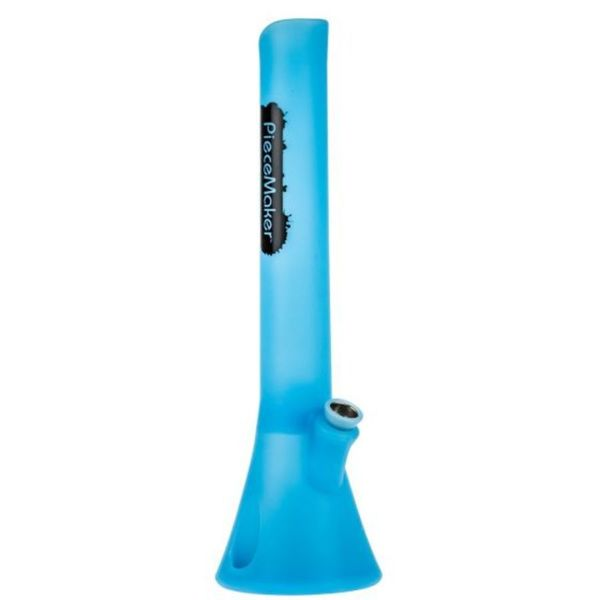 This virtually indestructible bong is one of Piecemaker's highest sellers. It is mid-sized and with the the unique Hex-Tek-designed silicone downstem diffuser, means you can filter your smoke easier. The contoured mouthpiece provides a comfortable fit while you inhale your herb smoke, and the redesigned diffused downstem provides even more bubbles than before.
The FDA-approved, food-grade silicone bong is perfect for travel and outdoor use and is also easy to clean. The last bong you will ever need.
Features
Price: $69.99
Materials: Food grade silicone
Pros: mid sized, fully silicone, hex-tex technology.
Cons: carb hole isn't reliable.
Eyce silicone beaker bong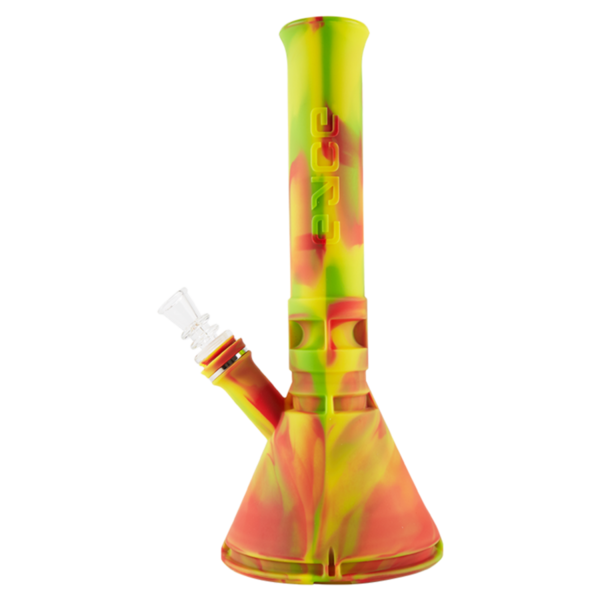 This silicone bong by Eyce is everything you need in one device. You have a hidden container for keeping your dry herb, a rolling tray, a magnetic lighter holder so you never lose your lighter again, and a poker to clean your bowl.
The fully silicone bong is perfectly durable and ideal for smoking on the go or with friends. The water filtration and ice catcher make for a smooth hit. Choose from all silicone options and colors.
Features
Price: $65.99
Materials: Platinum cured silicone body, large hidden container, hidden rolling tray, magnetic ring lighter holder, 4mm borosilicate glass bowl, diffused borosilicate down stem, ice catcher, stainless steel poker
Pros: all in one.
Cons: sold out.
Puffing Bird Matrix Perc Hybrid Silicone Beaker Bong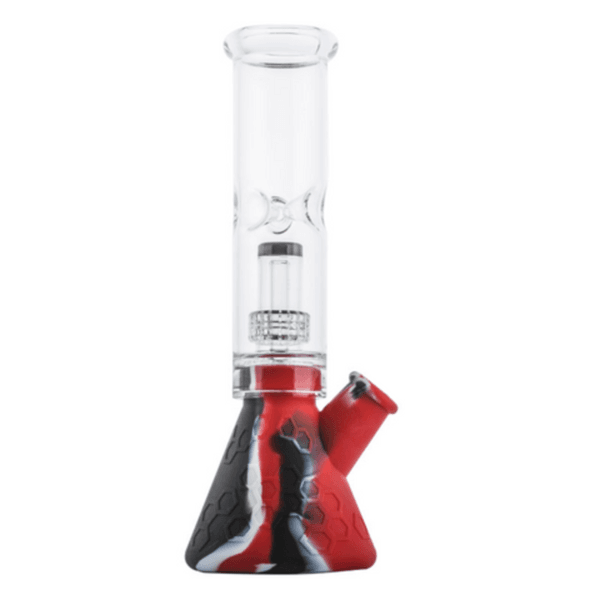 This Indestructible Silicone Hybrid Bong allows you to enjoy the extra smooth rips you seek out of a glass water-pipe with the unbreakable qualities of silicone. It doesn't necessarily eliminate the risk of shattering but it works overtime to make sure you get the best rips.
This versatile piece features a removable glass Matrix Percolator, and a 14mm Male Bubble Bowl, that can easily be swapped out for a 14mm Male 45 Degree Banger if you prefer concentrates. Enjoy your smoking sessions with the best of both worlds.
Features
Price: $59.99
Materials: borosilicate glass, bpa free food grade silicone
Pros: percolators, collapsible, versatile.
Cons: still made of glass and susceptible to shattering.
Puffing Bird 2-in-1 Silicone Gun Bong/Nectar Collector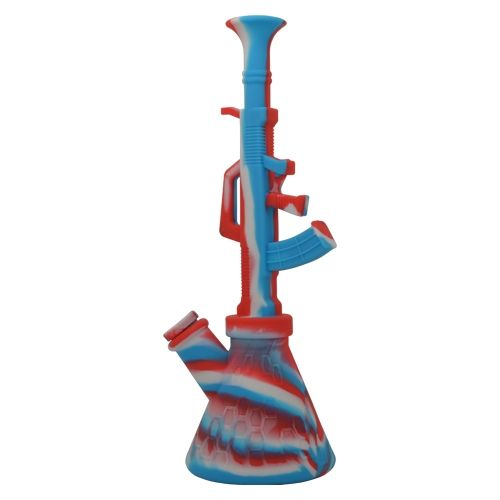 This silicone water pipe is uniquely shaped like a gun and it collapses to become a nectar collector, which is ideal for those who enjoy dabs as well. As far as silicone water bongs, there aren't much on the market that can do that which makes this silicone bong one of a kind.
To use the nectar collector, simply detach the top and replace with a titanium tip/dab straw and then you have the nectar collector. Easily one of the best silicone bongs on this list.
Features
Price: $49.99
Materials: medical gradesilicone.
Pros:
Cons:
The Original NoGoo Mini Pendant Rig with Storage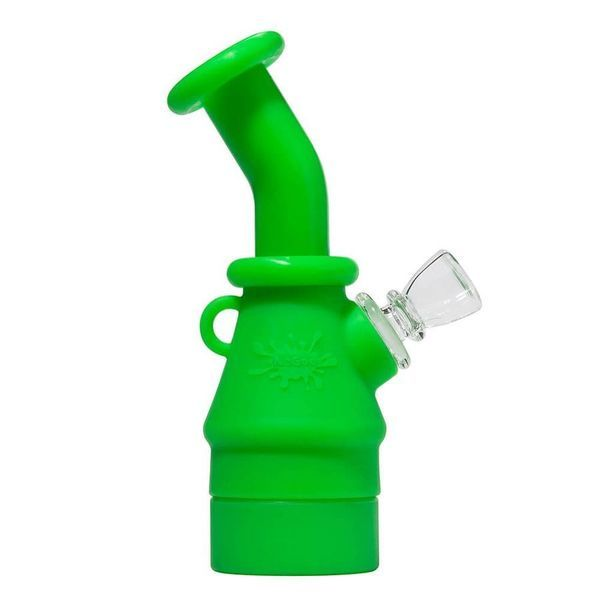 This mini silicone bong is also a silicone dab rig. Whether you like dabs or dry herb, this little smoking device is perfect for you, the best of both worlds. The size itself makes it a perfect partner for smoking in your car or in a lowkey setting and the material is glow in the dark, so you can marvel in the darkest of settings.
A perfect portable bong and dab rig so you can switch it up!
Features
Price: $34.99
Materials: high quality silicone
Pros: all in one, container, both dab rig and bong
Cons: size.
Where to find the best silicone bongs?
If you're looking for any of these bongs or smoking accessories, there is no better place than Slyng.com. Slyng offers these bongs and more as well as coupon codes on the most reputable brands in the smoking industry.
Take advantage of our deals and quality pieces and check out what we have to offer. If you're interested in some of the best bongs of 2022, click here.
Best silicone bongs – Conclusion
Glass bongs are a thing of the past when it comes to all the great benefits silicone bongs provide. They are safe, reliable, durable, and efficient options for smoking and they provide the comfort you need to smoke anywhere.
Check out our page for more info on these wonderful bongs and purchase your first silicone bong today!